Roof Access Hatches
A roof access hatch allows easy and safe access to the roof of a building through the ceiling and then to the outer roof. Particularly effective on high roofs an access hatch allows a worker to gain access to the roof from inside the ceiling space. Some buildings are located in places that make ladder access to the roof very difficult or dangerously risky. By accessing from inside the risk of falling is significantly reduced.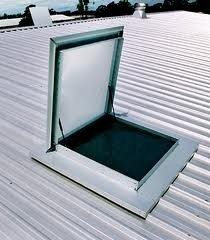 Falls from ladders cause many deaths every year, so eliminating long ladders is always the safest choice. (See Falls from Ladder Statistics)
We install a 'safe path' from the ceiling hatch to the roof access hatch so that workers cannot fall through the ceiling or be electrocuted by exposed wiring. They are therefore safe at all times and it limits workers causing any damage to the surroundings.
When installed as part of a Safe Roof Access System an access point will be located within one metre to allow attaching of the harness before climbing onto the roof.
More anchor points are placed within regulated safe distances to enable access to the entire roof area.
There are many different types of roof hatches available, including hatches with a clear dome to allow light into the ceiling space and Colorbond colours to match your roof or gutters.
Our Roof Access Hatches will not leak, and feature:
Double skin Zinc-Aluminium
Twin gas struts for easy opening
Insulated lid
Lockable hasp for security.
Talk to us about your specific needs.
---
At Sydney Anchor Points we are committed to using only the highest-quality products from the industry's leading manufacturers. Every single component of each roof safety system has been extensively researched, tested and re-tested to ensure that it will provide the highest level of safety and confidence.
Our roof access hatches are robust, lightweight and easy to install.
To install roof access hatches, an installer must possess valid industry licenses and comply with all relevant OHS regulations and legislation. Each member of the Sydney Anchor Points team has undertaken extensive training to ensure they can safely and professionally install even the most complex height safety systems.
No matter what type of roof you have, we have a height safety solution to suit your needs and budget. With a range of materials and sizes, we provide a comprehensive range of roof access hatches.
Our sleek roof access hatches blend in with the roof surface while still having an extremely durable construction. Our licensed installers use innovative flashings and installation techniques to ensure the hatch is entirely watertight and provides maximum functionality and ease of use.
Why Choose Sydney Anchor Points?
Sydney Anchor Points is a team of fully trained and insured height safety professionals that specialise in innovative roof safety systems. With streamlined processes that save you time, money and hassle, Sydney Anchor Points provide cost-effective roof safety systems that you can rely on.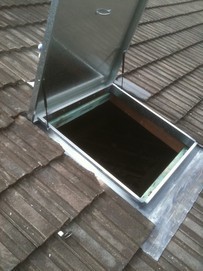 Locally owned and operated, Sydney Anchor Points services commercial, strata-titled and residential properties in the Sydney region.
Come and explore our other services:
Anchor point installation
Roof safety systems
Anchor point certification
Roof safety system certification
To discuss what type of roof safety system is ideal for the unique requirements of your property and your available budget, give us a call today for a consultation. We have assisted thousands of commercial, strata and domestic property owners throughout Sydney with OHS compliant height safety solutions.
With over 17 years experience installing safe roof access systems for thousands of clients in the Greater Sydney region, we have the experience you can rely on. To explore what some of our customers have to say about our services, come and visit the testimonials page to read genuine and unedited reviews.
Each year we service over 10,000 residential, strata and commercial properties. From a single anchor point installation to the most comprehensive roof safety system, at Sydney Anchor Points we have the skill-set, expertise and industry know-how to create simple solutions to complex problems.
For a free installation or certification quote, give us a call today on 02 8020 5777. Whether you have any questions about roof anchor points, ladder brackets, fall arrest systems or roof access hatches we have the answers for you. We can help you establish a plan of action to ensure you can create a compliant and safe working environment on your roof.
When you give us a call, you will be talking with the industry experts that will work on your job.
We look forward to working along with you.