Ladder Access System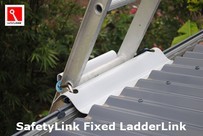 Are you searching for an affordable ladder access system?
At Sydney Anchor Points we are happy to provide one of the most recommended ladder stabiliser systems for strata, commercial and residential properties.
Would you like a free quote? Call us today on 02 8020 5777 or fill in the contact form and we will happily provide you with a no-obligation quote.
Fully Contactless Ladder Bracket Installation & Certification
To ensure the health and safety of our customers and staff, we have introduced the following practices. Our staff will always:
Maintain a minimum distance of 3m from all customers
Remain outside of your property buildings
Process payments with no physical contact
Adhere to all hygiene practices in force at this time
And of course, we will continue to provide before and after photos so that you know the work has been completed to your satisfaction.
---
Sydney's #1 Ladder Stabiliser Installers
Since 1999, we have been providing our local Sydney community with advanced ladder stabilisation systems that offer the highest standard of safety and assurance. Our streamlined services provide you with exceptional value for money. Give us a call on 02 8020 5777 to request a free installation quote.
Our ladder safety brackets are designed to provide you with a convenient and reliable roof access system. Enjoy the confidence of using a premium-quality ladder stabiliser that has been designed and tested to provide maximum security and assurance.
At Sydney Anchor Points we have established a reputation as Sydney's #1 height safety team. Put us to the test today.
We look forward to helping you with a state-of-the-art ladder stabilisation system - Call today on 02 8020 5777
What Type Of Ladder Access Systems Do We Install?
At Sydney Anchor Points we recommend SafetyLink LadderLink brackets. Each unit is constructed from high tensile marine-grade aluminium. With an innovative protective coating, the ladder stabilisers do not cause premature corrosion to your gutters or roof sheeting.
Ladder Access Systems For All Types Of Roofs
The unique designs of our ladder brackets ensure they can be installed on all types of roofs. Our installers have undertaken extensive training to ensure they are fully qualified. We install our ladder access systems with relevant signage.
Safe & Easy To Use
Gutter cleaners, window cleaners, roof repairers, solar panel installers and all types of tradesmen love the class-leading simplicity and safety of our ladder access systems. Enjoy the confidence of not having any horizontal slippage as you climb your ladder.
Manufactured from industrial-strength materials, our ladder access brackets are designed to last.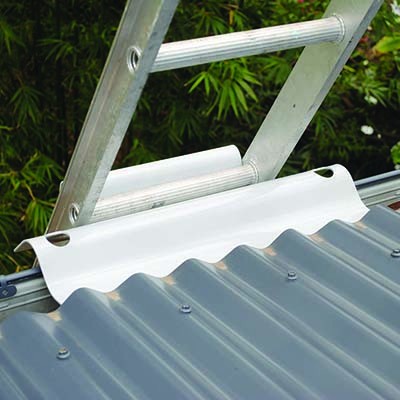 We have helped thousands of property and facility managers in the Sydney region with innovative roof access systems.
When our technicians arrive at your property they will inspect the condition of your roof, the surrounding environment and the intended use of the ladder access system. Hazards such as overhead wires, uneven ground, pedestrian traffic and difficult roof accessibility will all be taken into consideration. Following this analysis, they will then recommend the best location on your roof to install the ladder access system.
The technicians will recommend either a wall-mounted or roof-mounted ladder bracket system.
Where Do We Install Ladder Access Systems In Sydney?
We install and certify ladder brackets in every suburb and region in Sydney. We can come to your strata, mixed-use, retail, commercial, industrial or domestic property and provide you with class-leading ladder bracket installation at a time that is convenient for you.
We install ladder brackets in the following regions:
Sydney CBD
Eastern Suburbs
Northern Suburbs
Southern Suburbs
North Shore
Northern Beaches
Hills District
Hornsby
Parramatta
Ashfield
Inner West
Canterbury-Bankstown
Liverpool
Western Sydney
Greater Western Sydney
South West Sydney
Sutherland Shire
Blue Mountains
Give us a call today on 02 8020 5777 and take the first step to safely accessing your roof.
What Services Do We Provide?
We provide a comprehensive range of height safety services
Safe roof access system design
Roof safety audits
Roof anchor point installation
Roof anchor point certification
Ladder bracket installation
Roof access hatch installation
Roof fall protection anchors
Our Sydney Customers
At Sydney Anchor Points we are proud to work with some of New South Wales leading organisations including:
Woolworths
NSW Police
Department of Education and Training
NSW Ministry of Health
Conti Property Group
LJ Hooker
Ray White
Raine & Horne
Are We Fully Insured?
Yes. We have full Workers Compensation Insurance and Public Liability Insurance to $10 Million.
Our membership with Trades Monitor gives you the confidence of knowing that everything possible has been done to ensure that we are certified as having been trained according to the requirements of the WHS (OH&S) Act and that we carry appropriate insurance.
Each member of the team has a White Card, Working at Heights Certification and certified to install WHS (OH&S) compliant Anchor Points and Safety Systems.
Do We Have Home Warranty Insurance?
Yes. We can provide Home Warranty Insurance (HWI) when necessary. We also provide the contracts, a checklist and a consumer building guide.
Are Ladder Brackets The Right Height Safety Solution For Your Property?
There are so many factors to consider when deciding on the ideal roof safety system for your property. Thankfully, our technicians take the stress, hassle and uncertainty out of identifying the perfect highest safety system for your facility.
Following a thorough inspection, we can recommend a system that suits your requirements and budget. Whether that is a roof access hatch, ladder stabiliser or roof anchor point, we can help you find an easy to use roof access system.
Are We Qualified To Certify Ladder Access Systems?
Our specialist technicians are members of Trades Monitor, Housing Industry Australia and the Working At Heights Association. We excel at creating innovative height safety solutions that provide excellent value for money and the ultimate standard of safety.
We are happy to provide professional recertification services for all types of ladder access systems.
Call us today on 02 8020 5777 to fast-track the certification of your ladder bracket.