Roof Anchor Installation

When working on a roof the chance of falling is very high. The uneven surface combined with the pitch of the roof makes them one of the most high-risk of a building to work on. Falling from the height of most roofs will result in injury or death, and this is not acceptable. Roof anchor points are devices where workers on a roof can attach safety harnesses, ropes and other safety equipment used to arrest a fall in the case of an incident.
Roofs are covered in a range of materials. Terracotta tiles, concrete tiles, slate, COLORBOND and other metal sheeting. Often roofs are visible from the ground and form a vital visual appeal in some buildings. Our roof anchors are designed to limit the visual impact and seamlessly integrate to existing roof structures.
Our anchor points allow for simple installation and small visual impact. They include a unique fall arrest energy absorbing design. This effectively dissipates the energy of the fall so that no jarring, whiplash or further damage is done to the person or property in the event of an incident.
How Roof Harness Anchor Points are Attached
The Australian Standards stipulate that for safe roof access, roof anchor points need to be installed within a certain spacing from both the point of access to the roof and then between each anchor point. The same spacing applies to a roof access hatch. To attach an anchor point to an already existing roof there are two primary methods, one for metal roofs and the other for tiled roofs.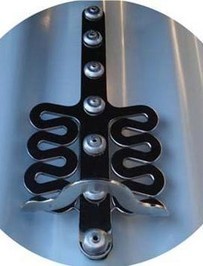 Metal Roofs - Anchor Point Installation
The metal roof anchor point is installed by pre-drilling holes in line with the spacing of the anchor point and secure with industrial rivets the anchor point to the ridge of a corrugated sheet. These anchors are rated 1-man fall arrest anchors - but they could arrest the fall of up to 2 men per anchor. (15kN)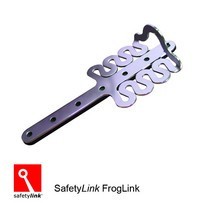 Tiled Roofs - Anchor Point Installation
For tiled roofs, a tile that sits over a rafter is removed and the anchor point is screwed into the rafter at the correct height to allow the attachment point to protrude below the tile, fitting between the two tiles. The tile is then placed back into its original position. These anchors are rated 1 man fall arrest anchors - they could arrest the fall of up to 2 men per anchor.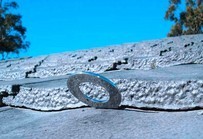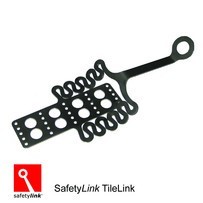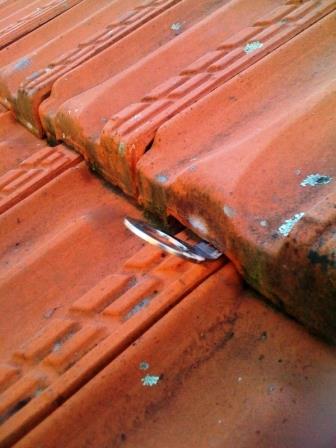 On the left, an example of an anchor fitted to a Terracotta tiled roof. Notice that no holes are made in the tiles, preventing any leak issues.
Fitting is unobtrusive and does not detract from the aesthetic appearance of the roof.
Have your building fitted with approved anchor points to provide safety to any workers accessing the roof, and prevent legal exposure - contact us using the form to the right of this page.