Safe Roof Access Systems - Sydney Anchor Points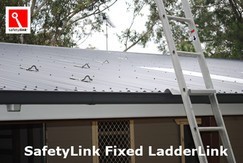 Safe Roof Access Systems are a complete set of safety devices that enable safe access to the roof of a building and safety protection while on that roof. They include permanently fixed safety devices that enable a person to have a safe method of getting onto and off a roof, and safety anchor points for harnesses while moving and working on a roof. A Safe Roof Access System means any workers needing access to a roof may not need to set up temporary safety devices such as scaffolding or guard rails. Devices that are used to create a Safe Roof Access System include roof access hatches, anchor points, ladder brackets, safety signs and static lines.
You may not be aware that around 98% of all roofs in NSW are non-compliant as regards to current OH&S legislation. This means that it is not possible for personnel to carry out any work on the roof in a completely safe manner. At present most workers who need to access roofs do their best to work safely by setting up temporary anchor points, for example, while gutter cleaning, installing or repairing roofs, gutters and downpipes. The installation of a Safe Roof Access System ensures that from the moment the tradesman leaves the ground and starts climbing the ladder, until the moment he steps off the ladder at the completion of the work he is completely safe from falling and injuring himself.
Roof Access Hatches
A roof access hatch allows easy and safe access to the roof of a building through the roof. Particularly effective on high roofs an access hatch allows a worker to gain access to the roof from inside the ceiling space. Some buildings are located in places that make ladder access to the roof very difficult or dangerously risky. By accessing from inside the risk of falling is significantly reduced.
We install a safe path from the ceiling hatch to the roof access hatch so that workers are safe at all times.
When installed as part of a Safe Roof Access System an access point will be located within one metre to allow attaching of the harness before climbing onto the roof. More anchor points are placed within regulated safe distances to enable access to the entire roof area.
Roof Safety Signs
Another device that is used in the Safe Roof Access System is the implementation of appropriate and adequate safety signs. This prompts care to be taken and draws attention to some of the high risks present while working on the particular roof. Signs directing where not to walk, unseen dangers or general safety procedures to use while on the roof.
More Safe Roof Access System Items
See our other sections for details on the other safety points to use on Safe Roof Access Systems:
Once a building has been fitted with a Safe Roof Access System then it qualifies for a Height Safety Certification. The certification is a way to ensure all the safety features are regularly maintained and are functional and continue to meet the ever-changing safety standards.
While the initial outlay is reasonably substantial, it is an investment in the property from a servicing, maintenance and OHS compliance point of view. Many businesses also offer substantial discounts to clients that have proper OHS certification already in place, as this makes their job quicker and easier, not to mention substantially safer!