Installing Concrete Anchor Points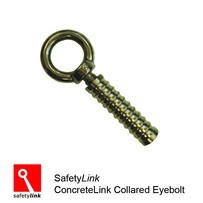 This anchor point is designed for installation into concrete. A concrete anchor point can be installed onto a concrete slab, wall, roof or any other stone or masonry surface. Designed to support a worker in the event of an accidental fall while working at heights, concrete anchor points are both quick and easy to install and provide safety for up to 2 workers per point.
Concrete anchor points are ideal for rope access workers who need to abseil buildings (e.g. window cleaners, building maintenance, painters, etc.). Most high-rise buildings are made from concrete and have adequate areas on the rooftop to install concrete anchor points for working safely on both the roof and while abseiling. Concrete anchor points provide approved levels of hold for such workers and meet the Australian Standards.
Concrete anchor points are simple to install, and you can take advantage of our accredited installers who can install assess and approve the concrete anchor points on the spot, as well as issue you a certificate of installation for the building.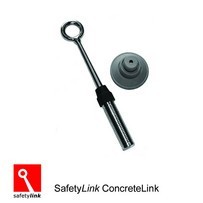 Concrete Anchor Point Installation
Sydney Anchor Points certified installers will be able to identify how many anchor points are required based on the roof plan and what type of access is required by workers. This means you don't have too many or too few anchor points for safe worker access.
Generally, concrete anchor points are installed on the parapet of high rise rooftops, allowing for safety both while working on the roof and over the edge of the building. They are also installed in a location that can allow for abseiling access down the side walls of high-rise buildings.
Using approved installers also means the safest and most beneficial installation is carried out and satisfies all Australian OH&S Requirement. OH&S building certification is included in our installation process.